Name: Umesh Munda
Hometown: Khakhra, Ramgarh, Jharkhand
Occupation: Air Conditioning Repair
Returned from: Hyderabad, Telangana
Umesh Munda worked in Hyderabad, Telangana, for the past five years. His income ranged from Rs.15,000 to Rs. 18,000 depending on the hours of overtime. In February, upon hearing of a possible spread of the Covid-19 virus, Umesh intuitively sent his family home. The work continued till the 27th of May. To risk contamination, and to do so without any family support was the spiralling thought in his head. Instead, he chose to register at the police station for a train ticket to Jharkhand.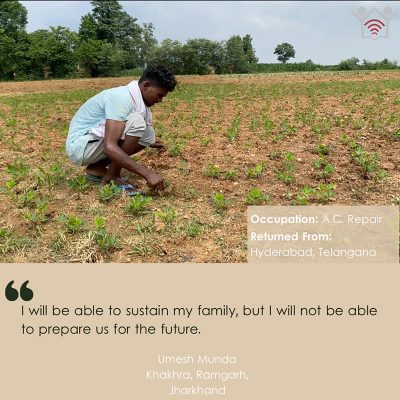 Interviewer: What was your initial experience with the Covid-19 virus? What measures did you practice during your stay in Telangana and throughout your journey?
Umesh Munda: I invited my wife and two-year-old child to Hyderabad for a visit. I watched the news on my smartphone as they broadcasted the story of 'the spread of a virus in China with the possibility of its eventual global transmission.' Over the next few days, I arranged for my wife and kid to return home to avoid any unnecessary trouble. I continued to work.
The company I worked for shut on the 21st March, but I continued working in four-hour shifts till the 27th March. I observed at least two-hundred rush to get tested; it was similar to Tablighi Jamaat.
I heard Hemant Soren and the Jharkhand government released an application for the laborers stranded throughout the country. I was hoping to receive Rs. 2,000 as told by the government. However, Rs. 1,000 and 5k.g. of rice I received will suffice.
In the following days, I noticed an immediate increase in cases only to realize I will be alone if infected. With that in mind, I registered on the Jharkhand application and waited. Ten days later, the villagers instructed me to visit the police station and submit the necessary documents. It was eighteen days after I received a call and requested to delay until my shift ends. That same afternoon I performed another registration process, transferred to Ghatkesar Railway station, and departed for Bokaro.
Once before the railway station, the bus stopped at a quarantine centre for water, biscuits, and bread. I reached the station at 7 p.m. and waited till 9 p.m. for the train to depart for Bokaro. The government provided three bottles of water and two packets of food at entering the train, the same once again the next morning, and some bread and water periodically.  It was a 36-hour long journey since the route taken was Vishakhapatnam and Tata, as opposed to the Darbhanga – Barauni course.
Local buses awaited to drive us to our respective districts as we arrived in Bokaro. Since there was no one from Ramgarh district other than me, I shared the bus with forty others with all social-distancing norms violated in the process.
I contacted the Panchayat Sevak after reaching the village for the quarantine instructions. The quarantine centre did not have the appropriate facilities yet, so I waited for a solution. I messaged my information via WhatsApp and waited till 7 p.m. for the food. I attempted to call the number, only to realize it's switched off. It was fourteen-days later, the same individual instructed me to head to the Gola Hospital for a check-up. He sent a vehicle. I waited two days at the Mehla Engineering College for the reports without wording our discomfort. A total of 120 individuals were at this centre, with one bathroom, a bottle of cleaning detergent, and a broom for each floor.
For breakfast, there'd be four slices of bread and one banana; and for lunch and dinner, some dal, rice, and a vegetable.
Interviewer: How has the pandemic affected your lifestyle? Do you have any expectations from the government to assist you through the crisis?
Umesh Munda: There is nothing to do right now. I am waiting for work to resume in Telangana. It is not a choice — I will go to wherever there is work.
I repaired air conditioning leakages with an unconventional method that could delay the damage by a year or even two. I pocketed Rs. 15,000 a month, the company covered the housing, and with overtime, I received a total of Rs. 18,000. I sent Rs. 14,000 back for my sister, brother, mother, and a friend. Not everything requires technology; certain things demand your hand.
The two continued with their studies as I took the financial burden of the family upon myself after our father passed away. My brother has a mobile repair shop that earns him Rs. 9,000 allowing him to contribute to the electricity bills and land deeds, as I pay for the weddings, medical expenses, and other large expenses.
After my father passed away, I dropped out of seventh grade to earn for the family. I worked as a driver in Tatanagar for the first years earning Rs. 6,000 per month. By 2014, they paid me Rs. 10,000 every month. My sibling replaced me at this job as I went to Hyderabad for a better opportunity. The contractor who guided me from Bokaro taught the skill set required for the job.
I invited my child to Hyderabad because I wanted him to have the education I could not get. Now, I am earning a maximum of Rs. 10,000. I will be able to sustain my family, but I will not be able to prepare us for the future.
I own an acre of infertile land. It will only amount to something through government aid. Although I believe the Modi government is giving necessary support to the people, the channels do not ensure large-scale reach.